Agua De Coco (2)
The Lakeside pool has a mellow shallow end but it is close to being a complete circle shape.  Because it was so closed, I thought this was a great place to try doing a double carve over the stairs.  Yes, go over the stairs and then right back over the stairs.  The guys questioned me what the hell I was trying to do so I told them.  That got shit started.  Most of us started trying it.  Even a double 50/50 would make us stoked.  On one run you would « kind of close » and the next try you end up shot into another pocket.  This was a hard game to play.  So hard that Leon came in all wrong and got worked.  Before this trip I thought Leon never fell.  I was grossly wrong.  Leon pays the piper to get that smooth style.
Leon makes a frontside blunt in the Moorpark look like I could even do one.  Sorry bub, that is impossible.
Jeremiah Risk was kind enough to let the Canadian crew stop by his backyard bowl (The Yard) a few times.  The more times I skate there, the more I like it.  The Yard has a little bit of everything.  Small, big, mellow, tight transitions, round hips, square hips, tight corners, and loose corners, it has it all.  This is not an easy bowl though and I do not wish it to be.  The entire Canadian crew went all together during the first week of the trip.  While I was taking my time, waiting for the session to chill out, I heard a total silence.  Bumbles went down.  He is not moving.  How do we get him out of the bowl?  There is no way we will be able to get him out of there.  After a minute or so, Bumbles began to make some noise.  In the end, he hobbled his way out of the bowl all by himself luckily.
There is no keeping Bumbles down.  He is not human.
Brad has inverts even in tight deep ends; Oceanside's Alex Road skatepark.
As I was taking my board out of the van in the Oceanside parking lot, someone yelled « ri ».  I looked around to see a NoDamnGood homie, Oli parking his car.  Running into homies 5000 km from home is so fun.  About 60 minutes later I hear another « what's up ».  It was JS Lapierre, sick!  As it turns out, this is JS's morning warm up skate spot.  I guess I kind of blew it, I did not even think of taking a photo of those guys, Leon, Mack, and myself.  Sorry guys.
Backside tail slide while using the waterfall to get enough speed to style it.  Nice Mack.
How to pack a minivan 101.  Photo by Steve.
Which ones are the kids?  CJ Collins, Bryson Farrill, Kiko, Trevor, Asher Bradshaw, I don't know, Jean and busted me on the balcony .
Week two was basically the second lap repeat of the first week.  That happened because there were some missed missions that needed to be completed, we were hurting, and it was all new to Chanimal.  A second hit on cool shit is all fun anyways.  We also had a couple of skate dates with some friends.  The Combi, The Yard, Encinitas, Peck Park, Alga Norte, Clairemont, Washington Street, Huntington Beach, and Etnies all had repeat hits the second week.
The Vertical Vampire does have a shadow.  Chill grind by Josh Mattson.   Bill Weiss flapping an invert.  Pat Duffy pops into an Indy air.  Photos by Steve.
When we left San Diego for the second time, rain entered into the forecast.  Rain was bad news for us but a little help for the drought Southern California has been hit with during the last couple of years.  A call went out to Jeremiah since it rarely rains in Palm Springs.  As we drove out through San Bernardino it was pouring rain.  I was a little scared that we were going to get rained out even in Palm Springs.  Once we hit the valley, there were no more clouds in the sky.  From the first time we hit the The Yard to the second time, Jeremiah had made the first pour on his new snake run.  I can not wait until the snake run is complete.  It is going to be off the hook.  At the beginning of the trip, Vans at the Orange had closed its street section completely.  The workers got the job done super fast and on our last visit the street section was open once again.
For some reason the cloud hit the mountains and then went south.
The newly modified Vans at the Orange street section.  Photo from the Vans website.
Rock'n roll slide over the stairs at Peck by Jean.
An artsy photo with Tristan's ear and more importantly Ryan with an Indy air at Culver City.
Trevor starting his three trick line with this lien to tail at the Bible Bowl.
Just before the rains began, while we were still in San Diego, I had a weird slide going up a waterfall and ate the shallow end wall.  I was not even hungry that day, haha.  Shit sometimes happens and sometimes it is not something good.  You have to take the good and the bad or else it is time to quit.  After that point it was still hard to take photos.  The action button for cameras is on the right side of the camera.  I could not lift my right arm though.  I later figured out that I could grab the camera with my right hand and then use my left hand to lift the camera and thus my right hand too.
Leon amazed me with these frontside Smith grinds on the 11 foot face-wall at the Yard.  He never gets to skate anything this tall but it did not even faze him.  Now he just needs to work of his smith style, haha.
 Jean tries his best to imitate a Hackett frontside slash grind at Alga Norte.
Whenever we start snaking each other Bumbles says. « Aggressive! ».  That became a calling card at our sessions on this trip.  It also morphed into « Be aggressive ».  Bumbles had more Christopher Macallum moments than Bumbles moments this year.  It is nice to see him change it up.  Christopher must be happy too since Bumbles did not spend all his money.  Another cool thing this year was having 3 more Montrealers with me.  I had just met Jean before BYP skatepark closed so I did not really know him.  That is not the case anymore.  4 or 5 guys in a room really makes people close.  A little too close sometimes.  Yes, I am talking about how the other guys feel about being that close to me.
Yes, I skated a couple of pad skateparks.
Hurt Life came out with a Taco Dudes model.  We made it out for the launch party for some beer and tacos.
The first week of the trip passed by at a reasonable rate but the second week just flew by.  I had so much fun on this trip.  Will I ever do another two week trip to Socal?  I really do not know, maybe.  I did state to the guys that my dislocated shoulder would be my last one.  No more getting better and then stopping my exercises.  I need to keep my shoulders strong and in place from now on.  Only time will tell if I can keep my promise.  Thanks goes out to everyone that made it out to the Anti-No-Vert trip and everyone we ran into on the trip, except for the cops that kicked us out of Uplands skatepark because of a fight in the parking lot.  Until next year (or fall for me).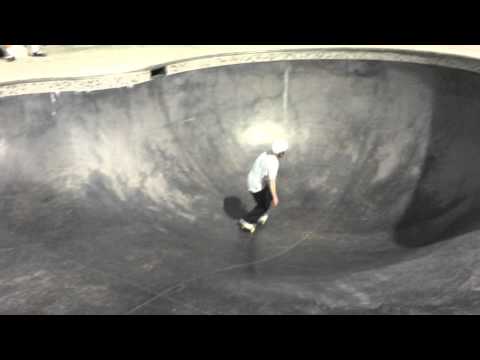 I was so stoked that Mack found a line over all the obstacles in the black pool at Etnies.  Especially the backside smith over the deathbox to straight over the stairs.  That is a sick combo.