Boisbiand
The « new » Boisbiand skatepark is a little on the far side for me to bike to.  Actually that is not true, biking there and back is no problem.  The problem lies in carrying my board, carrying a backpack, and skating for a couple of hours in the middle of the transit.  The bike ride home would be really painful.  For those reasons I have never skate the Boisbiand skatepark.  That is until last weekend.  A bunch of old skaters were escaping their families for an early morning session.  These old guys are crazy; 8 am sessions on a Saturday.  I would have to wake up earlier than I do during the week.  Luckily a couple of them were also opposed to waking crazy early so I got a ride with them.
The street section looks like your typical Canadian lame concrete skatepark.  The flow is a triangle basically.
They also created a flow bowl.  It is kind of on par with the Jarry Park one except much less grainy(i.e. sandpaper like) concrete.  This is NOT A SNAKE RUN , nor does it bring the same joy to ride.
All the transitions of the skatepark is done really poorly.  They are all way lumpier than P45 and P45 is a D.I.Y. project.  The transition hip is the worst designed and fabricated obstacle of the whole park.  One foot below coping the transition curve stops and flat bank begins.  To the left (in the photo) of the hip is a concrete wall so if you fall there is a good chance you will get hurt.  By just opening up the angle of the hip the concrete wall issue could have been resolved.  The flat sections of the skatepark have cracks all over.  It seems that when the city saw the cracks they had them sawed open and fixed.  Sorry city, that fix did not work.  All over the place the patch concrete was popping out.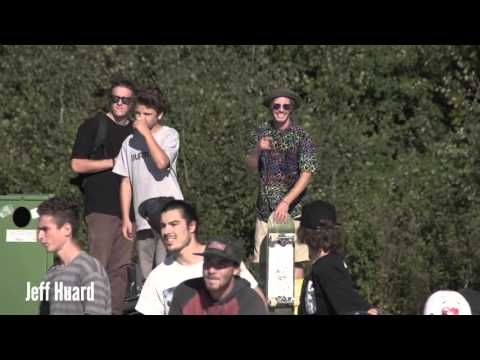 Technical Skateboards a whole better than I did.
This park is not very fun.  I had fun there because of the guys I was skating with, not because of the terrain.  The manual pads might have been the best thing there because it is low and I could (not well) ollie onto it.  If I was there alone, I would not have skated for more than 20 minutes.  All that being said, it is still one of the best skatepark around Montreal.  It is a good thing that Montreal has so many great street skating spots or else being a skater here would suck.  All the beautiful women make living here fun too.