Gypsy Tour
After a failed attempt to create a Canadian skater road trip to Oregon this fall, I still needed to use up my last few vacation days from work so I headed to where the sun is always shining and where sessions are easy to find.  Yes, I went back to Southern California (SOCAL).  After talking with my friend Bill about planning to head down to SOCAL, he made me aware that Exposure 2015, an all female skateboard contest, around the dates I talked about.  I have previously skated with many of the girls that would be in the contest and I have had a blast doing so.  I thought to myself that I might as well include the contest date within my trip plan.
Yes, the Nude Bowl is really in the middle of nowhere.  My first visit there ever…CHECK.
A week or so after my flight was booked I remembered that Annie Guglia had been talking about heading herself to California so, I messaged her my trip dates to see if any of our travel dates over lapped.  By chance my last weekend in SOCAL overlapped with her trip.  I was stoked.  It is always a blast to run into a friend while on a road trip.  To get to skate together is even better.
I titled this story Gypsy Tour but not for the reasons that you would think.  For most of the trip I stayed with my friends the Rennies.  The Gypsiness comes from the random (and sometimes planned) run ins I had during my trip.  Right off the bat I was offered a chance to skate the Nude Bowl.  It has been a famous gem of a pool that began being skated hard in the 80's.  Over the decades the Nude Bowl has been skateable and not skateable many times.  It was rad to be able to skate it some 30 years after I had seen guys skating it.
The pool was getting a new paint job when we arrive.
The next morning I was awoken by Tristan stating, « Let go to Pala.  I have the pin to it. »  Of course he was referring to a digital pin on his phone's map app.  Even though the Pala Pool had no coping except for over the deathbox, it was sweet.  It may be the easiest pool, not made for skating, that I have ever ridden.  Within the first few days I had already skated two of the most iconic pools and I had never skate either one of them before.  The next day I saw an Instagram post by PLG of him doing a frontside tail slide at Pala.  I wonder if I beat him to the Pala Pool?
On Monday I was slated to pick up my friend Trevor that flew in from Vancouver (and Sweden a couple days earlier).  Trevor's plan for the week was flipped upside down when he received a job opportunity that he could not refuse.  If I had gotten the same offer I would have taken it too even if I was not getting paid.  So, two days after arriving I dropped Trevor back at the airport.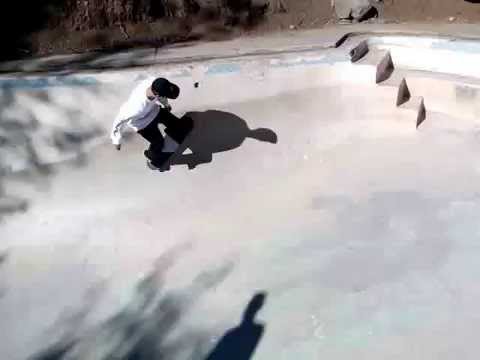 Tristan and Nathan Rennie playing around in another pool.
On that same day but, at night, I was supposed to pick up another friend at the airport.  Seb, the vert ramp lover was in for many firsts traveling around with me.  While waiting between the airport drop of and the pick up I had a little time to kill.  So, I took a spin to the beach.  Venice beach has a skatepark which I do not really enjoy to ride but I was super close by.  After a couple runs in the snake run (it is the only thing that is any fun there for me) I hit the beach and the ocean.  I ended up walking in the water all the way north until Santa Monica.  Walking all the way back was far so the shoes went back on and I did a little street skating.  Once I was sick of the rough streets I headed back to the beach to rolled on the smooth boardwalk.  As soon as I hit the boardwalk someone yelled out my name.  It was Tom Remillard walking down the boardwalk with his girl friend.  I was stoked to run into them.  It had been a while since I had seen Tom.
Oh yeah, California has some shitty skateparks too.  Spruce blows.
Skating the Chino skatepark which is now world famous because of Nyjah Huston's and Tom Schaar's resent videos, I ran into a facebook friend that I had never met before.  He was there with his two sons just by chance.  I ended up talking way more than skating during that session.  It was great to finally meet you, Dave Smithers, and your sons.
During the week I skated the Vans Combi Bowl a bunch.  It is always fun to run into the best amateur bowl skaters there like Kiko Francisco and Julian Torres.  As a bonus I also ran into Christian Hosoi, his kids and father, and Eddie Reategui at the Combi.
Yes, I went to the Combi a couple of times.
After a couple trips to SOCAL without running into my original friend from there, Bill and I made a plan to skate with my friend Eric Salazar.  We met up at the Huntington Beach Vans skatepark.  Eric was kind enough to extend his session longer because I am not a morning person and it took me a while to get ready in the morning.  Eric was skating better than I had ever seen him skate.  Hosoi was present again and Seb got to « fan out » on him.  Seb was having a hard time staying concentrated with his idol a few feet away from him.  With Bill's help Seb got a selfie with his idol.  I think that may have made Seb's decade.  We ended that day skating a night session at Upland.  To my surprise the Serna Skate Clan was in full effect there.  It had been a while since I had last skated with Serna, his son, and his daughter.  Yes Serna, next time I will bring you some maple syrup.  This was Seb's first fullpipe.  Why did he wait so long?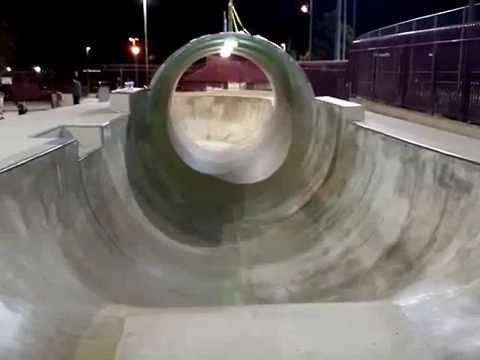 Seb's first run ever in a fullpipe and Michael Serna zooming around after work.
Finally the date for Exposure 2015 came around.  The Rennie's, Tristan's girl friend, Seb and myself headed for Exposure 2015 in Encinitas.  On the way to Exposure 2015 we stopped off at the Pala Pool.  Basically I needed to make it over the deathbox before leaving SOCAL and we were driving right by the pool anyways.  As we arrived Ronnie Yerman was just finishing up his early morning session at Pala.  Once we started skating some new people started arriving.  Aaron Abel who was kind enough to allow the Canadians to skate his bowl a couple of years back was the first to show up.  Long Haired Mike (who has become a Big O Pipe local) arrived a couple of minute later.  He had recently gotten back from working in China and was itching to skate some pools.  Then a bunch of pool guys (Josh Borden, Crazy Kyle, and Cam) showed up to heat up the session.  Sorry Seb for not telling you that Josh Borden was Josh Borden.  I kind of take skating with Pro skaters for granted.  By the way, this was Seb's first backyard pool (not made for skating) session in which he got his first grinds.  At one point Sheery Rennie told me that the girls pro street contest was about to start in Encinitas but I had a mission to complete; the deathbox needed to be grinded.  I had given up on the mission the first time we skated the Pala Pool; it was just to hot that day for me.  I had hoped to see Annie's runs in the contest but my mission was to important to me.  Sorry Annie.  After finally getting the deathbox grind (frontside of course), Nathan Rennie had started his own mission to get over the deathbox frontside.  He was all bummed that he was so far from landing the grind.  After a couple of pointers he completed his deathbox mission and we were off to Encinitas to cheer on the girls.
Me grinding over the deathbox at Pala.  Photo by Bill Rennie.
The Cardiff Skatepark in Encinitas was a zoo.  So many people came out for the event which was great, just not for finding a parking spot.  Jackie Kennedy's 1960 Lincoln had died in the entrance to the park and was being pushed to make things even crazier.  Once we, ourselves, had parked (really far away) and made our way to the skatepark, I started my search for Annie.  Basically the contest was a who's who of female skateboarding.  One of the first people I ran into was Lace Baker.  Her bald head was smoother then mine; I was totally jealous.  I also wished I could skate half as well as her.  After a couple minutes of walking around I ran into Annie.  Then I noticed that Ellyn Badens had also made the trip.  I was stoked to see them in California.  We talked about how their respective contest runs had gone and how they felt about being part of Exposure 2015.  Then my friend from Rye Airfield, Nora Vasconcellos came into the Quebec circle and gave me a hug.  She one of my favourite skateboards to watch skate; she's got so much style.  Once the chit-chat was done, the Quebecers headed to the bowl to watch the pro bowl contest.  The girls killed it.  Even a setting sun in their eyes could not stop to rippage.  New comer Autumn Tust really impressed me.  I guess she also impressed the judges since she finished 3rd.  Speaking of the judges, my friend Jean Rusen had come with her family from Arizona to judge the contest.  I wish she had entered though.  Either way it was great to see her and meet her husband.  As I would find out the next day, Annie had done very well in her contest jam, she had finished 12 in the pro division (see the results here).  She also made all the highlight reals.  I am so happy for Annie.
Annie @ 1:30  Check the TWS footage too.
Once nightfall hit, I left the ladies and went to eat some food before going skating.  After ordering the food we found out their was a UFO hovering just over the ocean in view to the restaurant.  Apparently the US marines had launched a Titan II rocket.  To bad, the UFO story would have been way cooler.  The Rennies, Seb, and I headed to the Alga Norte skatepark for a post food skate session.  The session was chill (mellow), actually it was down right cold.  Once again I had not told Seb that we were skating with Cory Juneau, Zack Miller, and some heavy ams, oops.  Once at our motel, I checked in with Annie to see what the girls were doing.  Their plans had morphed into just going home after they had finished eating.  I guess it was going to be a quiet night for me too.  Then, Jean messaged me that there was an art show going on in Oceanside.  What the hell, I might as well go I told myself.  Seb stayed home and watched some shitty movie.  Once at the art show I found out that it was a 30th anniversary Blockhead Skateboards party.   Sick!  Grant Brittain was one of the first people I ran into at the art show.  He took my favourite skateboard photo ever, the Chris Miller's frontside nose bone at Uplands photo.  On the way out of the show I ran into Barry Walsh's (and mine too) friend Humberto who used to rider for the Canadian skateboard brand Fishlips.  Humberto is one of the nicest guys.  We spent a bunch of time talking before I headed across the street to meet Jean at the bar.  Jean was chilling with her husband, Brandon Wong (skateboard photographer and skater), and Hailey Villa (of Slappy Slaughter fame).  Thanks for beer invite guys.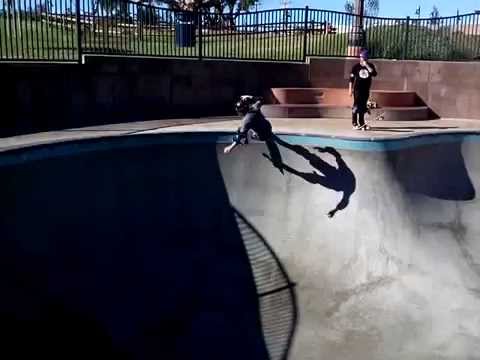 Seb trying to skate as well as the girls the day before.
The next day would be our last day in SOCAL.  The morning started with a session at the Encinitas skatepark with a couple of old guy and Adam Taylor.  Seb seemed to get better the more days he skated.  My body had kind of reached its limit but my shoulder had not dislocated, yay.  The final stop would be the Alex Roads Oceanside skatepark.  While skating around a guy asked me if I knew the Antique Skateshop guys.  He was from Virginia and had skated with the Antique boys on one of our North Carolina trips.  He stated that he had moved to San Diego with a friend to build skateparks.  When his friend came over I was stoked.  He (County is his name) was a friend that I had skated with in the OBX.  What a rad way to end the trip.  Once Seb came up to me to state that he was finished I got the idea in my head to finally do a frontside smith grind.  I feared dislocating my shoulder so I had not attempted any earlier.  The trip was over so what if my shoulder popped out now.  A couple of tries later and I rolled away from my only smith grind (the one at Chino did not count) on something tight (the Alex Road pool deep end) of the trip.  That made me happy.
Thanks goes out to all the friends I ran into during the trip.  Especially the Rennie family (even Quin that loves to bite me) for putting up with my shit.