Hoe Down 2012
Sweet Peanut!
Last weekend the Hoe Down at the Hoof edition three went down.  This year I didn't have a spot in the Vans van and those guys didn't get to see boobies on the road.  Was I wrong, was it not the van that got us some boob shots?  Maybe it was me?  Hahaha, I don't think so.  I ended up driving a rental car down with Drew Merriman and Adam Green.  To my surprise the guys were ready at 10 am on a Friday morning.  We left early so that we could get some skating in along the way.  Spot one was the Ganaoque skatepark.  After a couple of hours of driving I took it chill and skated around with my walking shoes and no pads.  Man is that park fun.  I hadn't been BACK since the park was just barely finished and not opened yet.  Within five minute this epic kid started talking to us.  Hopefully Adam will post the kids interview on the Push site so you guys get to see how warped this kids was.  Next to the skatepark there is a nice bmx track now, there was one kids riding parts of the track so we got him to go for a full lap for us.  He skipped to first two double jumps and then went for the third one after the corner……all we saw was a big puff of smoke and heard the kid yell, « FUCK ».  Boy did that kid go down hard.
Riley Boland get's mobbed as he collects first place.
Egging the kid on and then him crashing bummed us out a little so we split for some food and a pop.  We hit up the local Metro and ate our food in the parking lot.  Some idiot complained to the police that we had beers in the parking lot so the cops showed up.  I got up and walked away as soon as I notice the white on white cop car.  The cop ended up being from Newfoundland and was really cool about the whole deal.  In the end he just wanted to make sure the drinkers weren't driving.  No tickets, all was good.
Brent looking stoked to take fifth place.  During the contest he had two of the best runs out of everyone.  I might have been more stoked then him.
After our meal, we headed to Toronto.  Upon our arrival we noticed that the car thermometer was stating that it was 38 degrees at the Vanderhoof skatepark.  That is 38 degree without the humidex included.  Surprise, surprise, there was not one person skating the park on the street or the bowl.  38 degrees didn't scare us.  We had beers and found a little shade.  After awhile a couple of locals showed up and the session went off.  Once Bob arrived in Toronto we ended our session and headed down to the hotel.
The next morning we got up slowly and finally made it to the Hoof to get everything setup.  I'd told Colin that I was down to judge (that's why I don't have any contest photos) so my day would include way to much drinking.  It was sunny and hot; I needed to stay hydrated, haha.  The top five guys skated really well and that made judging difficult as you'll see in the video below.  The contest done and my beers too, we headed to get some food and more beers.  Our crew basically took over the terras at a local drinking hole.  Marc poured a couple of beers on his head and then it was time to go drink at the hotel.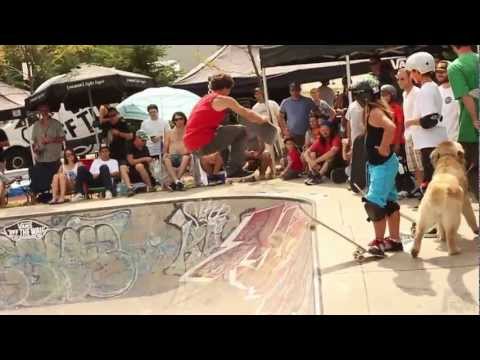 The last morning was rough, Riley knocked on my door at 9:30 am for me to drive him to the airport.  I quickly remembered what the knocking at the door was for and opened her up.  Ten minutes later we were on the road.  Once I was back at the hotel we split for the Toronto Indy race.  I'd scored some general admission tickets for all of us at the hotel the first day.  Thank you lady!  Then we were off for a shopping day, we were way to hungover to skate, in Toronto.  Marc and Bob killed the record store while we killed two coffees, a slushie, an ice tea, and a couple of bottles of water.  The non shoppers just lurked on the side-walk for two hours.  One last meal and we were off BACK home.  It was once again an epic Hoe Down at the Hoof.  Thanks to Vans and Bob for killer trip.